It was a great 4th!
I spent the day with Steve and Jordan, barbecuing, having a water fight, eating, playing, napping, eating, eating and eating. Steve and I made our own kabobs (rather, I made them and he cooked them) which were DELICIOUS!
Don't they look yummy? :o)
The weather was HOT and gorgeous and perfect for being outside!
We got a couple of cool squirt gun things at the store and Jordan was all about squirting me! His giggle just gets me laughing.
Refill!

And for the record, he ASKED me to dunk his head in the bucket. :o)

A hot bath and one hour later:
But up again for fireworks!

Disregard what Jordan is saying in this video about blowing up donkeys or whatever it is that he says. (Click on the video to watch it.) As soon as the fireworks started everything became about blowing stuff up. We thought we were safe lighting them off in the street and away from cars and houses but this one gust of wind came during this firework and one of those little things that spins off ended up in the tree! Luckily it was a nice green tree and didn't cause any problems. I had a moment of panic though!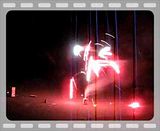 We had hoped to watch the fireworks at the river from my backyard, but there was ONE tree obstructing our view. We ended up driving down Western a few blocks and watching them from a parking lot, which was fine. We missed most of the show, but our own little show was good enough for us. :o) Next year we'll know to get a little closer to the action.
Happy 4th everyone! I hope you all had as much of a fun and relaxing day as I did. Saturday is our family reunion which I am really looking forward to. Good food, fun people, homemade ice cream! It'll be a good time.