Steve and I had a super wonderful anniversary weekend. There's a restaurant right on the bay called Shirley's, which I introduced him to... sometime! He was really anxious to go back. We liked lunch on Saturday so much that we went back for breakfast on Sunday. In the middle of our meal Steve wondered aloud how far away they cater. I asked him why he wondered and he said, "I was just thinking how cool that would be for our wedding."
We watched ships and little fishing boats and sea lions going by during our meals.
We walked along the docks and enjoyed the gorgeous weather.
These guys are so loud!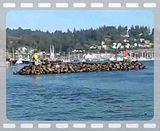 One of the things I really, really wanted to do was walk on the beach at sunset. I always forget that the sun SETS before it actually gets dark, so we ended up rushing to the beach and got there just in time.
A nice guy offered to take our picture with what was left of the sunset in the background.
And then we walked down a path to the beach.
This little guy stood here forever, but every time I took a few steps toward him, he would take a few steps away.
I think the tide was going out when we got there because the beach was extra long and there was a lot of wet sand.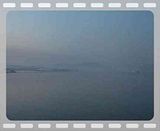 The next morning we walked up to the lighthouse (on the same beach) and enjoyed the view and took a little tour.
Steve surprised me with a beautiful silver heart necklace with three tiny diamonds in it. He's never bought me jewelry before and I was shocked when I opened it. I gave him the memory card for his phone (not a surprise, but allowed him a lot more pictures at the beach), some jammy bottoms and the scrapbook I put together for the three of us. He had forgotten about a lot of things we've all done together so it was fun to look at it together.
The weekend was extremely relaxing which was just what I needed before the beginning of a new job. Thanks Love, for such a wonderful time. =)